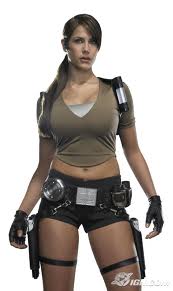 Bonnie Abarca (1985 - Present) was a central character in Grand Theft Auto: Donatello Abarca and a playable character in Grand Theft Auto VI
During 2001 - 2006 
Edit
Constant interference from Don's father caused Bonnie and Don unable to find love. The two always confined in one another and later attacked Maurice Jr., for being the favourite. Maurice Sr., however diffused the situation and abused them. The interference caused Don and Bonnie to have secret incestuous affair with one another. For five years, which was plenty enough for Bonnie to become "late" and his father to die of shock after discovering them together. Don and Bonnie ended it with one another. And decided to see other people. Donatello Abarca was appointed Don of the Abarca Crime Family due to Maurice's laziness and Don's experienced in the criminal underworld.
November 2010 - January 2011
Edit
uring the events of the game, Bonnie's life is in constant turmoil with welfare nearly finding out about the truth of her daughter's father and a elementary teacher trying to expose them. Her brother Don helps her out in time of need during the his time of searching for Thomas. Bon forms a friendship with many people that Don meets and becomes one of few female character that the player can hang out with.
During GTA VI
Edit
Bonnie was contacted by her older brother and don of the Abarca Family Donatello Abarca where she accepts the deal of joining the heist crew.
Special Ability
Edit
Bonnie's ability is Quick Shot, which involves slowing down time and using a pistol or a sniper rifle and quickly shooting down an enemy and becomes less useful when unarmed.
Ad blocker interference detected!
Wikia is a free-to-use site that makes money from advertising. We have a modified experience for viewers using ad blockers

Wikia is not accessible if you've made further modifications. Remove the custom ad blocker rule(s) and the page will load as expected.